Your Lack of Time Shouldn't Be An Excuse for a Lack of Results.
Hello there!
My name is Chad Howse.


I'm a top selling fitness author. I have my own business. My own lofty goals. And like you, I have very little time. I love weight training, but I don't always have time to get to the gym, or to spend hours cooking healthy meals. Yet, I'm able to look like this year round…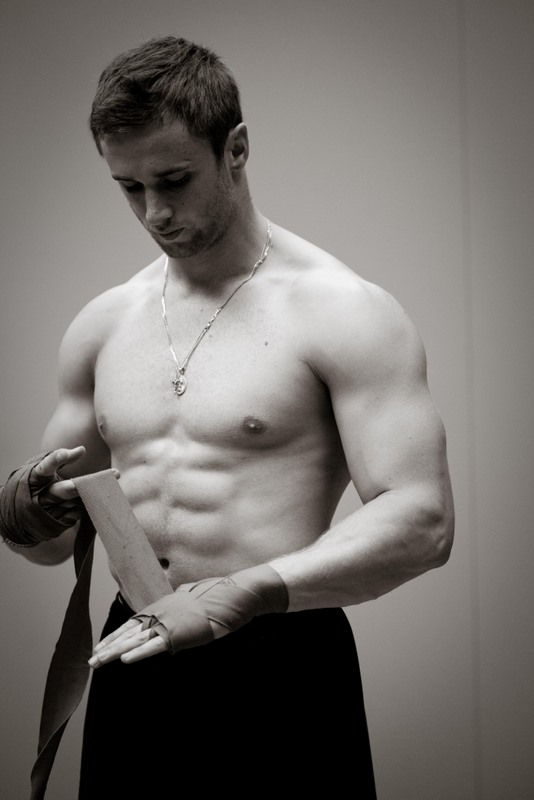 As Seen In:

So What Gives?
I CLEARLY have insane genetics – right? Not exactly… Here's me before I made my big transformation:
That transformation took a lot of hard work, yes. But it didn't take a lot of time. I gained 32 lbs of lean muscle in 32 weeks. Building a leaner, healthier, and more athletic body in the process.
That's when my life really started to take off. With a better body I had more energy, a greater ability to focus, I got sick less, and I had more confidence. Then I started my own business…
A couple things you should know about me:
1. I LOVE what I do and I work my ass off.
2. I HATE bulking and cutting.
I'd MUCH rather stay in great shape year-round without having to "cut" come beach season. I think it's kind of stupid. Why not stay in great shape year round?
With my growing schedule and responsibilities with the business – and the traveling – I had to find a way to train and eat healthy even if I was on the road, or (like today) stuck in the office unable to get to the gym. And so, I developed the Travel Trainer.
Don't be fooled by the name. Even if you DON'T travel very much, this solution can be a GREAT addition to your library.
The TRAVEL TRAINER is right for you if:
a) You don't have a lot of time to cook healthy meals or go to the gym.
b) You don't want to spend hundreds on a gym membership.
c) You LOVE training at the gym (like I do), but you need quick workouts that you can add in every now and then to boost your metabolism, get your blood flowing, or to simply experience the endorphins that are released due to intense exercise.
Sometimes I'll bust these workouts during a work break. They get the ideas flowing and heighten our ability to focus far better than artificial stimulants.
Here's another pic of what I look like 24/7/365. And I'm proud of it! I used to have no energy OR confidence when I was skinny!
Here's the best part of the TRAVEL TRAINER . . .Despite all the hours I put in to testing these workouts, the writing, the money I spent on marketing and graphics, I'm offering you these great products for a mere $7!!
So now you can never use "I'm just too busy" ever again as an excuse for not being in great shape!
That's it. No catch, I promise.
Go ahead and click the 'add-to-cart' button below and securely get your copy of the Travel Trainer for $7!
In the Travel Trainer ebook (a pdf file which you simply download after purchase) I'll give you unique strategies to get in better shape, even when you're on the road, living from who knows where. No matter what resources you have, you'll learn how to us what you have to build a great physique.
No longer does traveling, or working long hours mean that you have to gain fat, and lose the physique you once had. Nor does it mean that you can't start getting in great shape. Even if you only have 10 minutes a day to workout.
Use these workouts to build a great body in 10 minutes or less.
(a pdf file which you simply download after purchase)
Our diets are where most of us fall off track. But that won't be the case any longer.
For some of us it's our snacking (the Travel Trainer fixes this). For others it's out big meals (the Travel Trainer fixes this too). Learn how to eat, and what to eat when time isn't a luxury you have.
(a pdf file which you simply download after purchase)
BONUS TIME
 Because of the massive value, and the insanely inexpensive price tag, this solution is a big seller. As such, we're creating a large community of like-minded people, who are all after the same goal, but who have the same problem:
They want to get in great shape but they don't have time to cook or train for hours a week.
So, I've created a forum. A forum that I'll be on daily, giving you new workouts, new tips, and new ways to get in great shape in less time. Other members will share their workouts and their cooking tips as well. 
This is a lasting benefit at a very high value, yours FREE if you sign up now.
For a LIMITED TIME Only $7