I'm Chad Howse, and I'm an alcoholic.
I'm kidding! But I am a recovering weak and scrawny under-acheiver.
I spent the majority of my life as a successful, but under-acheiving athlete because I simply didn't know the right way to train.
Here I am in high school going into the 12th grade. I have very few pictures with my shirt off… I'm guessing you can see why? 
You'll also notice a basketball in my hand. I've been an athlete my entire life.
I first strapped on a pair of skates on at the age of 3. Played AAA hockey until I met my first basketball. We became pals and I played basketball until an inury halted a budding career after my first year starting at point guard in college.
After a year off from all sports, I got skinny fat. For the first time in my life, I wasn't at practice everyday. For the first time in my life I also had the makings of a tire under my belly button.
I woke up one day and realized what the hell was going on, so I walked into a boxing gym and fell in love once again.
My identity is ingrained in athletics, and that's why I first started weight training, and what eventually led me to start my business.
But for all of the love I poured into sports, I never accomplished what I knew I could. I knew how to develop the skill I needed, but I was always the skinniest, and weakest guy on my teams.
That, however, changed in a dramatic way only a few years ago with a job.
My old man's friend owned a gym. A gym that was the training facility for the pro football team and a pro hockey team in my home city. It was – and is – the place to train for any elite athlete in my hometown.
I had just started boxing, and I needed a job. So my old man set up a meeting with me and the owner, his friend. We hit it off, and he hired me. He liked my athletic background, and gave me a paid apprenticeship under the head trainer at the gym…
… The guy in charge of making the programs for all of the pro athletes.
To make a long story short, he didn't just open my eyes to how guys like you and me should train to become better athletes, but how each of us are following myths that are actually holding us back from getting in the best shape of our lives.
He showed me how to do LESS WORK, at a higher quality, and get BETTER RESULTS. 
When I started my apprenticeship, this is what I looked like…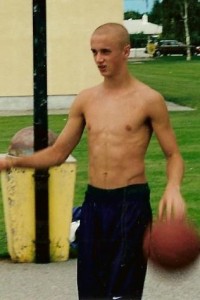 9 months into this apprenticeship, THIS is what I looked like…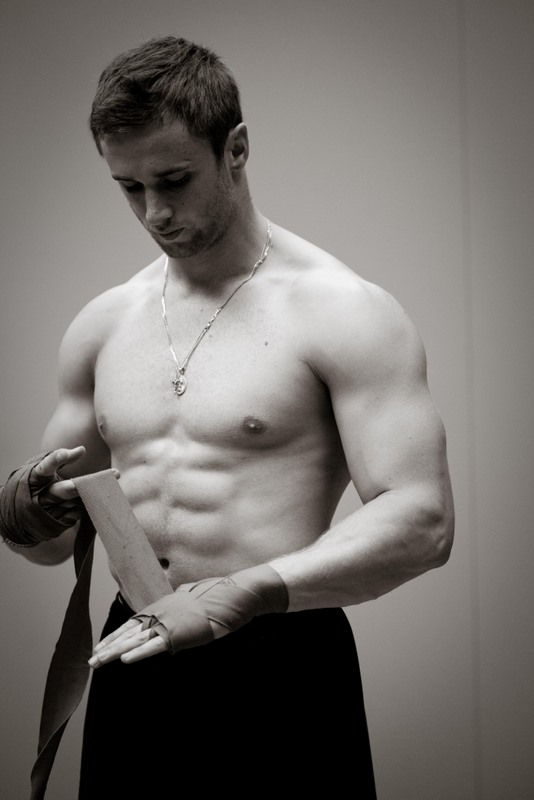 On the very first day he showed me how 3 things that I was doing, were holding me back from reaching my true potential. Everyone I know follows these myths at some point. They may be holding you back from reaching your potential as an athlete as well.
Myth #1 Cardio = Conditioning
When we think of conditioning, we think of long runs. Long runs do two things:
They raise our cortisol levels. Cortisol is a stress hormone involved in our fight or flight response to stress – in this case, prolonged physical stress. It makes our bodies use muscle and bone as fuel, storing fat for future emergencies (as a last resort).

They put a lot of stress on our lower back and knees – much more than the alternatives I'll share with you below.
He gave me a few alternatives, or "corrections", as he called them.
A) Train to improve lung capacity and cardiovascular health.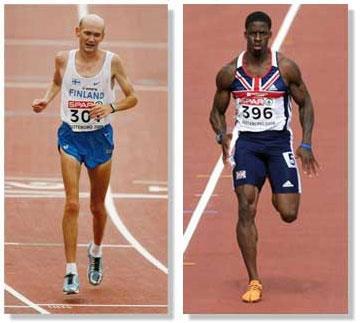 He showed me how to combine sets, alter repetitions, and use exercises that will not only help me become a better athlete by improving my explosiveness, power, and strength, but also improve my muscular endurance and endurance.
B) He showed me how to sprint.
Sounds funny, but sprinting properly from a technique side of things, but also structuring a sprinting routine properly are rare. Few of us do either. He showed me how I should structure a sprinting routine to improve endurance, lung capacity, while also naturally raising human growth hormone (HGH) in the process.
It's weird to hear, but my previous sprinting routines weren't structured the right way. I wasn't seeing optimal results because the rest-to-work ratios weren't allowing me to improve, or tap into the energy systems I wanted them to tap into.
C) Finally, he gave me a plyometrics routine.
Pyometrics are one of the most effective (if not the most effective) ways to become a better athlete. And few of us actually do them!
They've been given a bad name from people who see them as "dangerous", especially as we're developing in the younger years of our lives, or as we age.
THE TRUTH: if you're not doing a plyometrics routine, you're not going to see the best results you can possibly see. Simple. End of story. It's in doing these routines INCORRECTLY, that we run into trouble. He showed me the right way to do them. With the right tempos, the right pairing of exercises, and the proper work:rest ratio.
Myth #2 There's such thing as sport-specific training, or training for FAT LOSS.
What?!? Why is this a myth?
They teach us that cardio improves our lung capacity and helps us burn calories. My boxing coach even had me going on long runs to cut weight.
They also teach us to train one way to lose fat, and another way to build muscle. MYTH.
A recent study out of the University of Alabama, compared women who did cardio and lifted weights at high reps (trained for 'fat loss), and women who lifted heavy weights.
Both groups lost the same amount of weight. But the group lifted heavy weights, lost more fat. Much more actually.
The methods that my mentor taught me help us improve power, speed, athleticism, AND muscular endurance. They help us get in better shape, build more muscle, and burn more fat.
The variation, depending on what your goals are, should come from your training, necessarily, but from your diet.
In the PowerHowse Challenge, I've included specific meal plans for every goal. The training that includes an awesome sprint program called The Fast and the Furious Sprinting Routine, will help you not only get in great shape, lose fat, but maintain muscle, even if you're in a caloric deficit (dieting).
Myth #3 The Myth of Over-Training?
Yes, it's a myth.
What ISN'T a myth is under-recovery. That's where most of us fail. It isn't that we're training too much, while we might be doing the wrong stuff in the gym, we're not recovering properly.
So we're doing all of this hard work, but we're not letting our bodies recover and repair from the hard work. We're basically going in circles, never accomplishing anything.
He showed me unique recovery tips that helped me train more, and see greater benefits.
I had more energy, a greater ability to focus, and to be honest, life become better. My work was done at a greater quality. I slept better. I felt superhuman compared to where I was at before I met him and started the apprenticeship that would change my life.
To say the least, I was happy I got this job.
After winning my last fight, I decided I wanted to continue with my training, and instead build athletic muscle, not just athleticism. The transformation – that started with this apprenticeship – has led to me helping hundreds of guys like you and me build their ideal bodies, from an aesthetic, and an athletic standpoint.
Guys who are too skinny, too fat, too AVERAGE to have the confidence and the athleticism that we want. Through the principles he taught me I created the PowerHowse Challenge, a program that is specifically designed to help average guys – like I was – build exceptional bodies.
To help guys get in GREAT SHAPE.
After my apprenticeship, I branched off and built my own successful training business. I became obsessed with finding the best training methods for guys like you and me to finally start seeing results in our training…
I mean THE VERY BEST METHODS ON THE PLANET.
I wanted to take what my mentor originally taught me, and build on it. Over the next few years I spent my waking hours helping guys build their dream body in the gym – and in the kitchen – then put my remaining hours towards research. I tried everything. Studied what worked best and what didn't. I still do this today.
I then decided I wanted more guys like us to benefit from what I've found. 
I wanted guys like us to STOP wasting their time!
Stop hurting themselves!
Stop working hard and seeing no results!
I wanted guys to START BUILDING THEIR DREAM BODIES!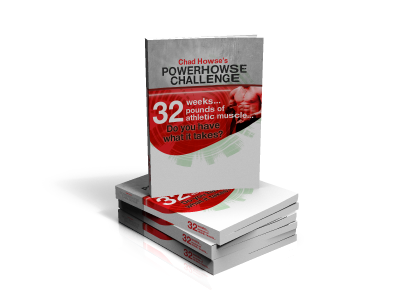 So, I started my online business (the web site). At first, it was a passion project. But that passion project blew up. I started writing blog posts, but – at the request of my growing readership – I put all of my training lessons, techniques, myths, and tactics into a 122-page ebook.
More than that, I knew the importance of following a specific program. The need to have something that you can print out and have in front of you when you're in the gym so you can DOMINATE a workout, and not have to guess what you should do next.
I also saw my progress, and the progress of my clients who TRANSFORMED their bodies with the programs. Guys who struggled building athletic muscle, who, for the first time in their lives, were able to build their dream bodies in only a few months of training. So I added 9 months of programs specifically to help you improve every week, becoming stronger, faster, more powerful, and MUCH MORE athletic.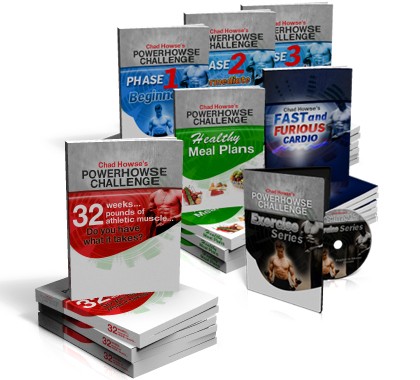 I then added…
The Fast & Furious Cardio System he showed me with 9 months worth of progressions to help you get in the best athletic shape of your life.
Meal plans that will provide you with the best fuel you can have to build the best-conditioned, and best LOOKING body you can possibly build, no matter your weight, shape, or size.
I then created a MEMBERS SITE, where all of the members can talk, help eachother out, and ask me questions.
And then, just for you, the members of the Chad Howse Fitness Legendary Athlete's course, I created…
The Bonus Program.
It's a plyometrics routine that will help you develop quickness, speed, and explosive power, without ever having to walk into the weight room (but I'm going to tell you more about that in a couple of days).
The PHC has already helped hundreds build their ideal bodies. You could be the next…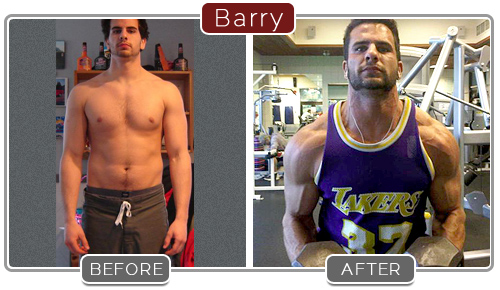 A guy who was overweight, unconfident, and lazy, before he decided to Man Up! And take the PowerHowse Challenge. Look at him on the right. Today he's a different man. A successful one. Ambitious. Full of energy, and JACKED.
After Ivan's transformation, he started his own business, bought his dream car, met his dream girl, and is living a life he never thought possible. He has more energy. A greater ability to focus. And, more importantly, he's happier, all because he decided to Man Up! And take the PowerHowse Challenge.
I could never put a price tag on my transformation…
Who I was before, and the confidence – and the lift I've built – since, are two different people altogether. Since my transformation I've:
Started my own company.

Followed my passion.

Faced my fears.

Lived life by my own set of rules.

And helped hundreds of other guys like you and me do the very same thing.
I would've paid THOUSANDS to have had the chance to change my body – and my life – earlier on in my sports career. Instead, I'm giving you that opportunity with the PowerHowse Challenge.
HOWEVER, I want everyone to have access to this solution that took me YEARS to create, so I'm giving it to you for $47. That is, a one-time fee of $47 to get:
the book
the programs
meal plans
members site access
fast and furious cardio program
video instruction
a secret bonus that you'll see when you're on the site
PLUS the plyometrics bonus that I'll email to you when you buy the PHC.
If I could guarantee your success. If I could give you a solution that would help you become stronger, more powerful, and more athletic, what would that mean to you?
$1000? $500? $200?!?
How about that one-time fee of $47?
That's what I'm offering you, right now. It's an offer that won't last. I'll push the PowerHowse Challenge back up to $200. But for this course, for guys like you, who share similar goals and frustrations to me, I want to give you the program, plus the plyometrics bonus for only $47.
And I'll also guarante you'll get the results you want with the program. And teh results I go – IF you work hard and follow the program to a tee.
I'm so confident that you'll love the PowerHowse Challenge that, if you're not happy with it within the first 60 days, I'll give you a 100% refund. No questions asked.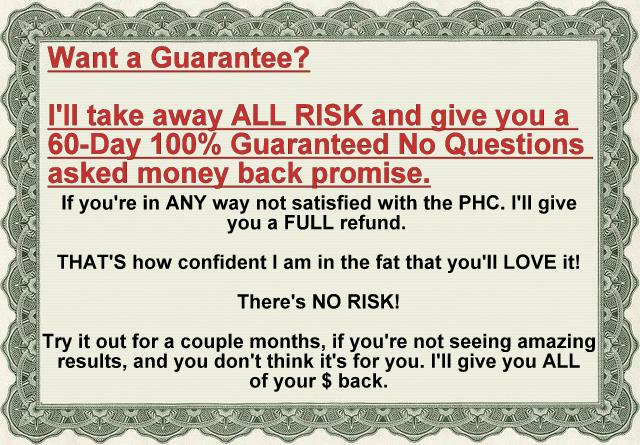 I don't even care if you decide to be lazy, to stay where you are now, to not improve, and if you're all of a sudden happy with the body you have now, email me, and I'll give you a refund.
No one's ever been unhappy with the program and the results they've got. But if you're the first one, I'll give you your money back. But I'm willing to bet you won't be.
So, if you're tired of working hard but not getting the results you want to get. If you're sick of the body you have. If you want to become a great athlete, to become stronger, faster, and more powerful, and if you finally want to stop wasting your time in the gym…
…Take me up on this limited-time offer, and click the add-to-cart button.
Joing me, and hundreds of other guys who took the challenge are building the athlete, ideal bodies they'd always wanted, in the members site.
Are you willing to man up, and finally take a step in the right direction?
Click the add-to-cart button. And take the PowerHowse Challenge now.
I'll see you on the members page in a few minutes.